We have started rental of security camera system and security system InfiPowerGUARD2.

You can easily use a high-performance security camera with no initial cost and only a rental fee of 500 yen.
We offer a wide range of plans, from short-term rentals for security cameras starting from 1 day, security systems InfiPowerGUARD2 from 1 week, to plans that offer discounts on monthly usage fees the longer the contract period is.
Since the equipment has been initialized, it can be connected to the network simply by inserting it into the power supply and remote monitoring is possible.
Remote monitoring can be done by multiple users via an app or web browser.
Please use it for short-term use such as construction, installation at construction sites, and special events.
For details, please refer to the security camera / security system GUARD2 rental feature page.
https://infipwr.com/product/camera-rental/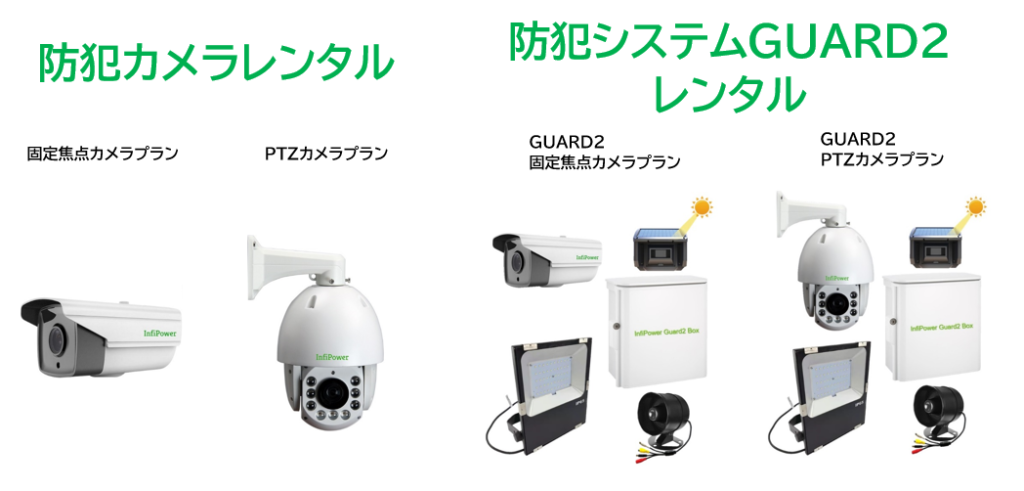 We currently have four plans that combine fixed focus/PTZ cameras, various sensors, and threat alarm devices, and we can also add security equipment such as cameras and sensors as options according to actual demand. In addition to remote monitoring and operation from a smartphone or computer, it has a built-in 128GB memory card that can record in full HD for 2 weeks, and with a UPS power supply, it can operate for several hours even if the power supply is cut off or the power cable is cut.