Description
Private cloud remote monitoring system "InfiPower Spider" (model number PM-SAC16) that can monitor the power generation status of solar power plants installed in remote locations in real time.
Currently, "InfiPower Spider" is integrated with "InfiPower GUARD 1". Please refer to the following site for the security function of "InfiPower GUARD 1".
Current sensor IP-SCT-T24 for 160A current for large power conditioners (single-phase 34KVA, three-phase 55.4KVA)
Current sensor IP-SCT-T10 for 80A current for medium and small inverters (up to single-phase 16KVA, three-phase 27.7KVA)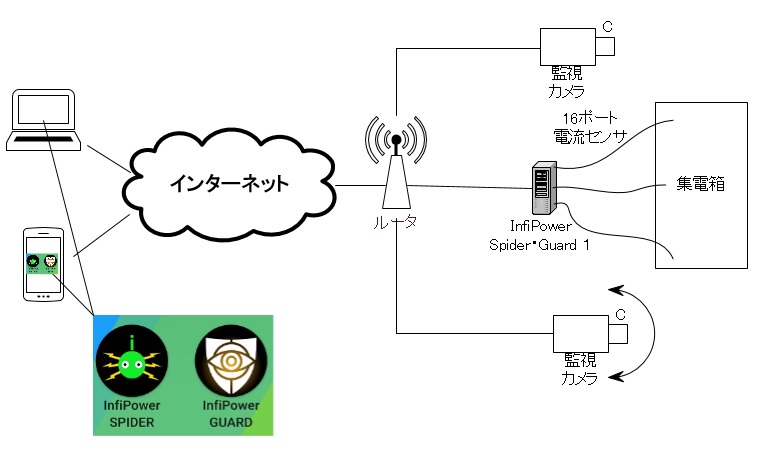 Features of this product
1. This product can be connected to a mobile router (or other network connection method, hereinafter referred to as a router) to form a single-phase/three-phase remote monitoring system.
2. Since it is a model that does not use a cloud server, there is no server cost, and if there is an internet environment, it will continue to operate without depending on a third party, including our company.
3. If the cable is cut due to theft, a real-time warning email will be sent when the breaker is tripped (*when a UPS power supply is installed).
4. Service life is extended because electrolytic capacitors are not used
5. Any SIM with a global IP address can be used
6. You can check the power generation amount and grid voltage of each inverter in real time
7. Hourly data for 3 years and daily data for 30 years for each inverter are stored in the main unit.
8. Hourly data for 3 years including this year can be downloaded in CSV format
9. Check the power generation amount of each inverter for the day every day at noon, and send a warning email if there is no power generation
10. Implements both hardware and software watchdog functions and works without interruption
11. 16 inverters can be monitored simultaneously per unit.By connecting up to 32 units of this product and 1 mobile router, 32 sections of low-voltage power plants, 32 x 16 = 512 inverters can be monitored at the same time. I can do it
12. Measure the amount of power generated using a high-precision semiconductor IC for power meters
13. Since it is a current sensor type, it can be used with various companies' power conditioners, and since there is no need for power conditioner communication wiring work, it can be easily installed in a short time (1 to 2 hours).
Comparison of remote power generation systems
| | | | | |
| --- | --- | --- | --- | --- |
| Example of a low-voltage power plant | InfiPower Spider + GUARD | Major company N | Inverter manufacturer's monitoring device | cheap company S |
| Power generation measurement | Measure and calculate current sensor and grid voltage | RS485 communication line, wiring work required | RS485 communication line, wiring work required | current sensor only |
| Compatible inverter | all | some inverters | Inverter made by the corresponding manufacturer | all |
| Compatible with three-phase power conditioner | 〇 | × | Inverter made by the corresponding manufacturer | × |
| Grid voltage monitoring | 〇 | It is possible if the inverter has the information | 〇 | × |
| real time monitoring | Voltage, power generation amount updated every 6 seconds | × | Updated every few minutes | Updated every 30 minutes |
| Number of inverters that can be monitored simultaneously | for 8 and 16 | Depends on inverter, up to 9 units | Maximum 80 units | 5 or 10 |
| Power conditioner generation stop alarm | Email notification once a day | Email notification once a day | E-mail notification | Email notification once a day |
| Breaker trip, disconnection alarm | Instantly send emails and push messages to multiple users | Email notification once a day | Partial email notification possible | × |
| Power generation report | daily email | × | Partially possible | × |
| Remote camera operation | operate freely remotely | × | × | × |
| Measures against power interruption | Uninterruptible power supply UPS | × | × | × |
| privacy | Expensive because it is a private cloud | Third party cloud | cloud of makers | Third party cloud |
| Simultaneous management of multiple facilities with a smartphone app | In conjunction with maps, multiple users can manage multiple facilities at the same time | Yes | cloud of makers | × |
| Initial equipment cost (5 power conditioners, tax excluded) | From 68,800 (a separate mobile router is required if there is no internet connection) | not clear | 90,700 | 31,400 |
| Cost including communication fee for 10 years | 116,800 | 250,000 | 138,700 | 61,400 |
| contract period binding | none | 10+ years | none | none |
*It is necessary to contract a SIM card with a global IP address separately with a telecommunications company. Please check the link below for details
https://infipwr.com/2022/04/20/simcard/