Description
A single unit performs the three roles of solar power generation, storage batteries, and electric vehicles.
Tribrid energy storage systems are at the heart of next-generation home energy management.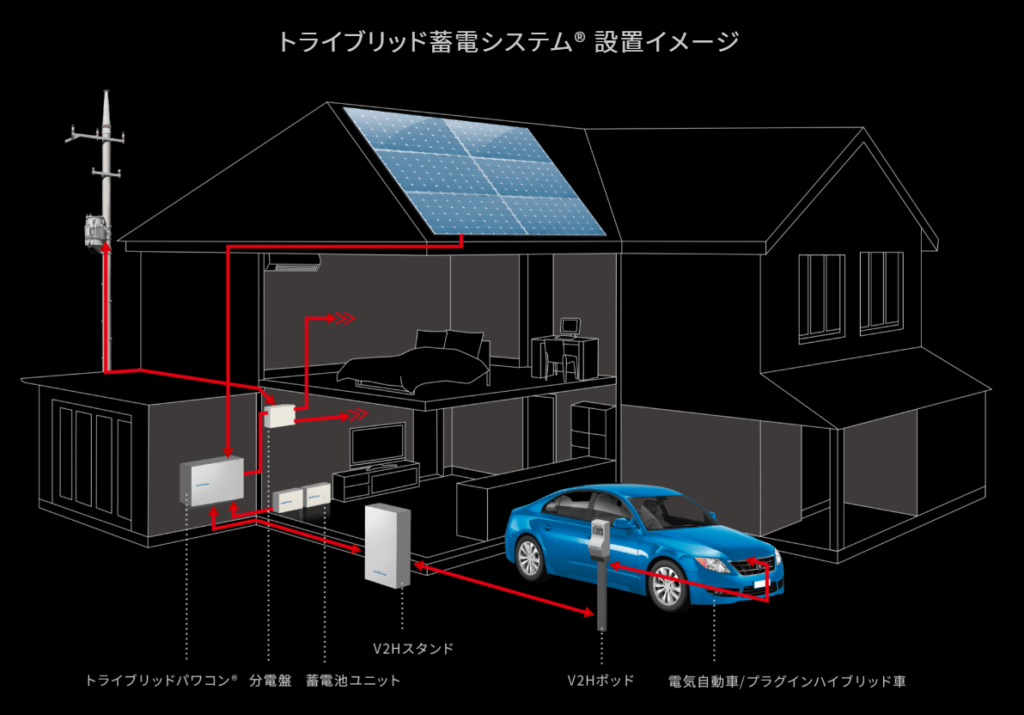 set content:

Tribrid power conditioner single-phase 5.9kW ES-T3 x 1 unit
Storage battery unit + expansion unit total 9.9 kWh ES-T3S1+ES-T3L1 x 1 unit
Indoor remote control ES-R6 × 1 unit
Storage battery outdoor case x 1 unit
Distribution board 60A
Remote control cable 20m
CT cable for AC 20m
Distribution board communication cable 20m
Communication cable for storage battery 20m
Nichicon Storage Battery ESS-T3L1 Specifications
Capacity 9.9kWh
Output at power failure 5.0kW
W×D×H Battery: W540×H418×D230
Power conditioner: W685 x H648 x D239
Weight Power storage unit/expansion unit: 50 kg each
Power conditioner: 44 kg
Free network service provides information on the occurrence of errors in the energy storage system and software updates for the equipment.
Weather warning and early warning information automatic control and AI automatic control automatically perform optimal energy storage system operation.
*Additional electric vehicle charging/discharging V2H stands are available (sold separately)
*Full load type
15-year product warranty, 10-year natural disaster warranty
*We can handle various types of energy storage systems manufactured by Nichicon Corporation. Please feel free to contact us.Inquries・